HAPPY NEW YEAR! I hope that you all have a wonderful 2017!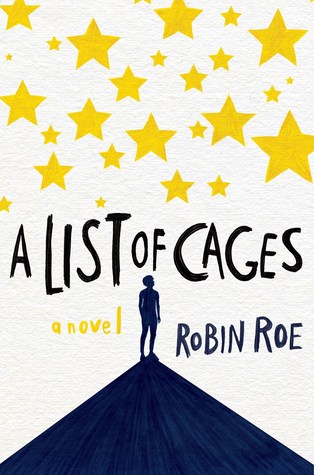 A List of Cages by Robin Roe

2 stars

A List of Cages follows two young men at very different stages of adolescences who share a past. Julian is a shy fourteen-year-old freshman. His parents' tragic passing has left him stunted socially, emotionally, and physically; being under the care of Russell doesn't help. Adam is a senior in high school and he has a group friends that mean the world to him. His ADHD makes him the lovable guy around campus and when he runs into Julian, his old foster brother, he makes it his mission to get Julian to break out of his shell.
I probably would have never read this novel if I wasn't invited by Disney through Netgalley to review this title. It's not my type of story. I'm not a big contemporary reader. The only time I read novels that have fantasy is if it's historical or psychological because that's just my preference. Even when I enjoyed contemporary as my main literary diet, I probably would've never picked this novel up. It's not a striking novel. It has a gorgeous cover, but the synopsis doesn't really draw me in or make me instantly interested in stepping out of my comfort zone.
I wish I could say that leaping out of my usual reads was amazing and groundbreaking, but this book left me feeling inconclusive about the overall story. It's a quick read, but it's not a read that will stick with me or haunt me. I like my contemporary to strike my heartstrings and make me feel like the lessons and tribulations the characters have experienced have helped me to become a better person. I don't really think I took away from this novel. All I can say is… meh.
The writing wasn't horrible, but it felt elementary. The sentences were choppy and short. There was also a lot of repetition. I can definitely see younger middle school students enjoying this novel because of its readability. My biggest issue is that it felt like a Perks of Being a Wallflower rip-off. Shy, awkward kid (who probably has a mental or social handicap) is welcomed into a large group of seniors who have fun parties. It felt way too much like watching Charlie interact with Sam and Patrick; just characters had different names and genders. Although there is a character named Charlie in this novel who plays a HUGE role throughout the novel.
Whimsical Writing Scale: 2
The main characters are Adam and Julian. I honestly didn't care for the majority of Adam's POV throughout most of the novel. It felt inconsequential and irrelevant. I think his POV was only necessary towards the end in the second part. His whole passages with his friends and their interactions were just boring and pointless. Julian is a really sad character, but everything just felt a little too sad for him. I just couldn't connect to him. I felt sorry for him, but I also didn't care until he was going through the absolute worst forms of torture. After that I just felt frustrated with him and I couldn't wait for the whole story to be over. He's too naïve and it was probably supposed to make me want to hug him, but I wanted to sit him down for a long talk on being sensible.
Adam's friends were an interesting aspect to the story. I can't say I really cared all that much for them. Charlie's interaction with Julian were integral to the story and I enjoyed seeing the progression of the relationship. Besides that, I couldn't connect to any of these characters and I just could care less overall.
Character Scale: 2The Villain
- I love villains, especially in everyday stories because in reality there aren't any visible villains unless you find yourself in something akin to an Investigative Discovery special. The villain, Russell, Julian's adoptive guardian didn't feel understandable. I didn't get why he was inflicting the horrible level of psychological torture that he was. That half-assed explanation in the heat of the "final showdown" felt disjointed and like a failed attempt to explain why he did what he did. Then, again, do we ever really know why serial killers kill? I guess I can see why his actions don't make sense, but from my standpoint I'm dissatisfied.
Villain Scale: 2
Overall, I'm not sure who I would recommend this novel to. It's one of those stories that I would recommend if you are interested based off the synopsis or if someone recommends it to you personally, but besides that I don't feel like it's a novel to seek out in a bookstore.
Plotastic Scale: 1.75

Cover Thoughts: I do love this cover. The illustrations are beautiful.
Thank you, Netgalley and Disney-Hyperion for allowing me to read this novel in exchange for an honest review.
This is the last novel I've read in 2016. It wasn't amazing, but I'm reading a bunch of amazing novels that I can't wait to finish in 2017. What book finished off your 2016? Did you love it, like it, or hate it? Let me know down below in the comments!