Song of Blood & Stone Releases May 1, 2018!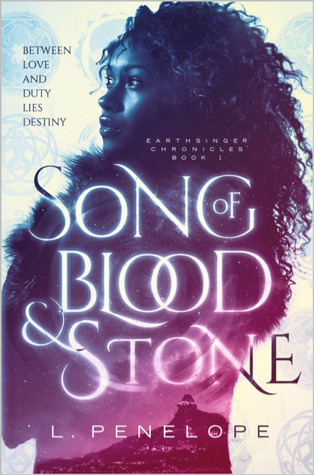 Song of Blood & Stone
by L. Penelope
First in the Earthsinger Chronicles
3.25 stars
Jasminda lives close the border of Elsira and Lagrimar. She looks Lagrimarian and has the talents of their people. She is an Earthsinger—able to heal, read emotions, and control things, but her powers are weak and she limited in what she can control. She has lived life in Elsira facing persecution and now her family's farm faces being taken away from her. When she is traveling back from the city she comes across an Elsiran man who can speak Lagrimari. This is rare and almost impossible for Elsiran to speak. He is posing as a Lagrimari soldier, but he is one the run from other soldiers who have discovered that he is a spy. He is on a mission to reseal the Mantle (the border between these worlds) and keep the Lagrimari from conquering their lands with corrupt magic. I was really excited when I won an ARC of this from Goodreads. I didn't remember what it was about, but I knew that it had a person of color main character and was a fantasy novel, which are few and far between. This novel has a lot of strong points. It tackles topics like ingrained and systematic racism against a people, immigration and fear of people taking away the native's jobs, food, etc., as well as focusing on the persecution interracial couples face. Although the last one isn't a huge focus of this novel it is hinted at repeatedly and the actions of those who are meant to perpetuate an old system and distill change show that their actions may have racist intentions. The skin color of the Lagrimari people isn't the main reason they are persecuted; they are called "grols" for their use of magic and subjected to racist comments for their difference of skin. I really loved the topics Penelope focused on and they were superbly handled. They were my favorite aspect of Song of Blood & Stone, but these positives weren't enough to balance all the things I disliked. Also, beware of the instalove. It's prevalent. I wasn't sure why these characters loved each other so much, but it is there and so you kind of have to suspend belief and just go with it. The worldbuilding is superb though. Penelope does a great job of revealing enough of the world to keep the reader intrigued and reveals more and more, so that by the end everything becomes known.
Whimsical Writing Scale: 3.5
The main female character is Jasminda. Jasminda is isolated, but she is fierce. She can hold her own in a battle and when men started to try to rape her, she wasn't afraid to slit some throats and take those misogynistic bastards down. One thing I loved about Jasminda is that she fails earlier on in the novel. She faces defeat and is disheartened because she realizes that she isn't a very powerful Earthsinger. I'm so tired of reading about heroines who have no magic and then discover their abilities and without training are able to accomplish high-level skills. It's ridiculous, but Penelope utilizes Jasminda's inability as a teaching lesson. Jasminda is also able to use the cornerstone and see visions from the Queen who has been resting for centuries. I would generally be annoyed by this, but because Jasminda is half-Lagrimari it makes sense that she can view the stone (and I won't fully explain why because spoilers). Jasminda struggles with confidence and it's so believable. I was rooting for Jasminda for a vast majority of this novel because she wasn't confident in her abilities.
Kick-Butt Heroine Scale: 3.5
The main male character is Jack. Jack didn't start off on the best footing. When he meets Jasminda he compares her skin to "a confectioner's delight" and then goes on to wonder was the last time he had eaten. Not only his sexualizing her, but just seeing her reminds him of being hungry. I just wasn't the biggest fan of that. Now, I'm going to talk about my biggest pet peeve with Jack and the thing that ruined this novel for me, so don't click on the spoilers.
One of my most hated tropes is a secret prince/ess and the need to hide their royal bloodline from the people around them. All of a sudden, the novel shifts from survival and search, to court politics. I love court politics, but I hate when it is introduced in this way. It's predictable and it just always leaves a sour taste in my mouth because it ensures that when they defeat the big-bad that they will have the power to change things easily. It's overwrought and it has saturated fantasy, especially YA fantasy. I know that this is adult fantasy, but it reads a lot like YA. After this, my enjoyment for this novel decreased completely and it went from a 4-star to a 3-star read.
Swoon Worthy Scale: 2The Villain
- The True Father is a man who has ruled Lagrimar for centuries and is able to keep his identity hidden. He rules with an iron fist and his people are oppressed and living in squalor. He is also able to use a Cantor, an Earthsinger who finds creates new spells and isn't opposed to use blood magic. This is an incredibly interesting concept and I'm a little sad that we only got a brief look at the Cantor and then it became almost completely ignored. It was obvious who the True Father was from the moment the cornerstone visions happened, but I did like the idea.
This big, bad villain who was undefeated is suddenly defeated in the most anticlimactic way. It was very unbelievable and then everything was wrapped up so nicely in a neat little bow. The Mantle dismantle and the Singers and Silents coexisting in one country despite all the prejudice between the two. I'm not convinced it will be a smooth ride for these two.
Villain Scale: 3
There is a huge cast of characters. There are the Lagrimari refugees who Jasminda and Jack run into. They don't offer a whole lot to the story, but they do shed light on a lot of the problems the Lagrimari people face. Also, Livette, I completely abhor tropes of women in courts being out to ruin other women. Sometimes it works, but it didn't seem to fit her domineer at all.
Character Scale: 3.25
Overall, Song of Blood & Stone has a lot of wonderful commentary on our world translated into a fantasy setting. The world is intense and it kept my interest. The plot wasn't very strong for me and kind of went for the turn for the worst due to my own personal preferences. However, I think a lot of readers will love this one quite a bit. I just hate that one trope that is a spoiler for the novel with al my heart and I can't rate this book high because I would be lying to myself. I wouldn't be opposed to reading other books in this series though. Penlope and the world of the Earthsong have a lot of potential.
Plotastic Scale: 3

Cover Thoughts: I love this cover so much. It has all the folklore chapter headers in the background and it just looks so beautiful. I love the look of it so much.
Thank you, Goodreads and St. Martin's Press, for providing me with a copy that I won in a contest in exchange for an honest review.
Are you planning on checking out Song of Blood & Stone? What are some of your favorite fantasy novels with diverse main characters? Let me know down below in the comments!