Hi, everyone! I hope you are doing well. Have you been reading any good books lately? I have a couple of books that I read in 2017 that I'm talking about in this video that I filmed forever ago. I hope some of these books pique your interest.
THE BOOKS: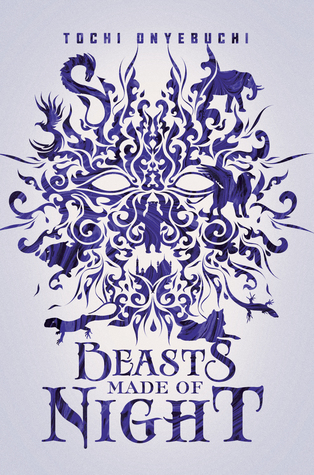 Beasts Made of Night
by Tochi Onyebuchi-
DNF 2 stars
This was so underwhelming and a huge disappointment for me. I thought I was absolutely going to love it to bits and pieces. I was a fan of
Akata Witch
and I thought it would be along the same vein. It wasn't.
Akata Witch
was immersed with characterization and
Beasts Made of Night
was severely lacking. Check out my review
here
.
Sinners in the Hands of an Angry God
by Jonathan Edwards -
1 star
This is a reread for me and I hate even more this time around. I think it's because I'm more well-versed with rhetoric and I think Edwards is a fear monger and a hypocrite of epic proportions. Unimpressed and disgusted. Check out my review
here
.
The Things They Carried
by Tim O'Brien -
4.5 stars
This is also a reread for me and it was wonderful. I really enjoyed re-experiencing this beautiful novel as an adult and I've recommended this book to countless people, including my dad who doesn't read and he read this book. Check out my review
here
.
Girls Made of Snow and Glass
by Melissa Bashardoust -
5 stars
I loved this Snow White retelling. It is fabulous. Wonderful! Everyone needs to read this and I want everyone to love it as much as I do. Check out my review
here
.
Young Goodman Brown
by Nathaniel Hawthorne -
4.25 stars
I much preferred this in contrast to
The Scarlet Letter
and it was nice to read a popular short story that is referenced a lot in culture and in novels. Check out my review
here
.
Interpreter of Maladies by Jhumpa Lahiri - 4.25 stars This is a lovely short story collection. It is beautifully descriptive and it focuses primarily on Indian culture within India as well as within America and the divide that occurs between first generation Indian-Americans compared to their immigrant parents.
Recommend the Most:
Girls Made of Snow and Glass is my #1 pick, but I also highly recommend The Things They Carried and depending on your reading tastes, I think either one of these (or both) can be a wonderful new read for you.
STATS:
Books Reviewed: 5
Books Rated Over 4 stars: 4
New Favorites: 2
Books That Changed My Life: 0
Owned: 2
I have reviewed a ton of books in this portion of my reading, which surprising and exciting!
Have you read any of these books? What were your thoughts? Do you want to? Let me know down below in the comments!