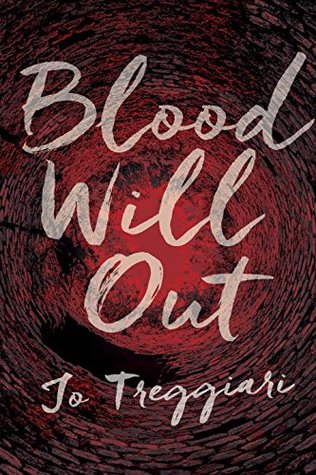 Blood Will Out
by Jo Treggiari
1.5 stars
Ari wakes up in darkness. She is trapped at the bottom of a well with no memory of the events leading up to how she got there. She is running out of time before she dehydrates and she must fight for her life to survive. The only thing keeping her alive is thinking about her friend Lynn and the fact that she must also be searching for Ari. Ari will do whatever it takes to survive and find the monster who did this to her even if she can't remember how she got there in the first place. I really like the concept of being thrown into a novel with the main character trapped in a well. I've read stories with similar premises with women trapped in rooms (
Comfort Food
and
Stolen: A Letter to My Captor
), but I was incredibly disappointed by this YA thriller. The writing doesn't set the tone for suspense and impending doom. In fact, the well is left behind quite early into the story (before the 50% mark) and it quickly becomes a confusing mess of Ari trying to stumble around and guess who kidnapped her. The stakes do get raised, but not enough to feel like I had to keep reading. In fact, I found this book really easy to put down and it was lackluster in the thriller department. A good thriller heavily relies on the writing and I don't think Treggiari delivered a writing style that captured me and made feel sucked into the story.
Whimsical Writing Scale: 2
I couldn't stand Ari. She makes for a mediocre heroine and she wasn't very likable. I felt like she was so run of the mill and mediocre. Nothing about her stood out and really made me root for her. Her conversations with people felt fake and I didn't really buy the naivety and innocent ploy that Treggiari was trying to convey. Also, she is a terrible investigator and proves that most suspense novels are only suspenseful because people who don't watch the Investigative Discovery network make the wrong move and try to be like Nancy Drew. It never works out well, but in this case, it felt very juvenile and campy.
Kick-Butt Heroine Scale: 1.5The Villain-
I did enjoy the chapters detailing and chronicling how the psychopath has gotten to this point, but the reveal made this less enjoyable. This is where my problem lays with this novel. At first, I was thinking this was a relatively okay novel and then we run into a ridiculous reveal. This villain was so out of left field that when the character's name was revealed to be coming out of the trees with a killer look in their eyes, I thought to myself, "WHO?" It was out of nowhere and it kind of doesn't make sense. I get that the events all point to that direction, but come on, that character was only mentioned one time at the very beginning and it wasn't even brilliantly done. It felt like a twist to be a twist, but no thought went into it.
Villain Scale: 1
Lynn is Ari's best friend and I found her to be insufferable. There were a lot of comments that she made that just felt incredibly rude and condescending towards others. She would say something cruel and Ari would trail along her continuing to perpetuate bad habits and when she would tell Lynn something she would get shot down with a cruel remark about being stupid and innocent. I just couldn't really root for their friendship because it felt a little toxic. Also, one of Ari's potential serial killer suspects suddenly saves the day and becomes friends with them in the end and it is so random and weird.
Character Scale: 1
Overall, Blood Will Out isn't a horrible novel, but it wasn't what I thought it was going to be. I'm disappointed in the turn of events with the villain and I just feel like this novel tried to be a new hit YA thriller because that's something the market is searching for, but it didn't work for me. I'm disappointed because I thought I was going to really enjoy this one, but I was also reading it alongside a Karin Slaughter novel and that woman can write suspense that shocks the reader. This was just disappointing for me. I do think readers who are less familiar with serial killers, crime, and thrillers will really enjoy this one and that's the reader I would recommend this for if I was asked.
Plotastic Scale: 1.5

Cover Thoughts: It's creepy. I love the way that it looks as if you can't get out of a well.
Thank you, Netgalley and Penguin Teen, for providing me with a copy of this novel in exchange for an honest review.
Are you interested in Blood Will Out? What are some scary places you wouldn't want to wake up, but would love to read in a thriller? Let me know down below in the comments!