I'm not a good blogger! I took a two week hiatus and now I'm back to school and winter guard is starting and I'm dying again. I'm sorry, but I'll try to update when I can. As well as post more videos! I haven't even done my Tope 14 of 2014 because I'm lazy and when I look good and I'm going to parties or sleepovers so I have no time. I'll stop babbling now and here's a review of Charming by Krystal Wade! I originally found out about this book through Sasha Alsberg's YouTube channel abookutopia and if you're interested in the video here's a
link
.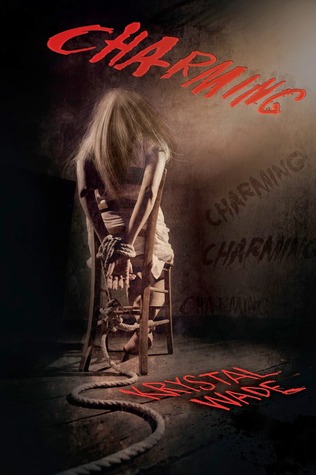 Charming by Krystal Wade

3 stars
Haley Tremaine lost it all. Her mother died in a car crash that was supposed to take Haley away from her abusive father and now she's stuck with him. She's stuck with him and she has to protect her sister from the truth about who her father is- an alcoholic abuser. Enter Chris Charming, a boy who used to attend school with Haley and now is runner up for her mother's candle making company. He has a reputation as a trouble maker and he won't leave Haley alone. There's a serial killer on the loose and Haley's his next target. This book has been marketed as Cinderella meets Saw. I can kind of see that, but not really. I mean the Cinderella aspect is there and prominent in certain scenes, but the Saw aspect- not so much. I could see it more as Cinderella meets Criminal Minds. I'm sure at least one Criminal Minds episode is exact like this or at least close to it. The beginning of
Charming
is really unsettling, especially for a novel targeted to young readers. If this book didn't read so blandly and have a high school setting I could see this as a dark adult novel, but besides the constant abuse Haley endures at home nothing about this book is extremely dark. I was completely disgusted with the abuse situation and while I can relate to Haley as a victim abuse I also can't.
The main female character is Haley. I'm on the outs about Haley. I don't dislike her, but I don't like her either. I feel like she was a strong character- she's brave and tough for having to deal with her situation- but she also downplays her situation- something I can totally understand. My problem with Haley is that her problem is portrayed very realistically, but Haley herself doesn't seem real. I'm just very unsure about my stance on her.
Kick-Butt Heroine Scale: 5
The main male character is Chris. Chris is pretty insignificant. I didn't get the romance with Haley and Chris. There was no connection, tension, or any sign of this so-called love that seemed to have blossomed in 7.2 seconds. Chris wasn't interesting or charming, much to the implication of his last name. I just wasn't buying it.
Swoon Worthy Scale: 2
The Villain
- I wish I could say that I didn't see who the killer was, but it seemed kind of obvious to me from the beginning. Since I've recently become a huge Gillian Flynn fan I'm constantly looking to be mind-fucked with books of this nature, but I didn't find it. When the villain was revealed it all just seemed rushed and ridiculous. Kind of like how American Horror Story: Freakshow (which I would've complained about until I saw the most recent episode which was freaking amazing and you should all join my obsession of AHS) has been this season- completely boring and then gruesome right out of left field.
Villain Scale: 3
I did not like Haley's sister at all. I think that as a member of Haley's household the abuse would've been pretty obvious since all the signs of domestic violence were there. I didn't like Haley's father either and he was a douchecanoe from day one. Haley's friend was a decent character. I didn't love her, but I liked that she was there for Haley and was a good friend. Where did that random guy at the end come from? What was that? "I kinda know you and I'm friends with Chris so I'll drive you to go and find a serial killer." Like what?????
Character Scale: 4
Charming
doesn't have a concrete plot and it seemed to be going nowhere at times and then there would be random plot points popping up and disappearing and then coming back. It was off-putting and while I think
Charming
good it also flows too fast. The best way to describe this novel is fluff in a dark setting.
Cover Thoughts: I like the cover when I first saw it I was expecting the novel to be a dark erotica, but after reading Charming the setting of this cover makes a lot of sense.
Thank you, Netgalley and Curiosity Quills Press for providing me with a copy of this book in exchange for an honest review
Have you read Charming? Does it appeal to you? What or your thoughts? Let me know in the comments down below!