I have 51 reviews that I need to write and instead of writing one of those I rewrote a review that I've never posted before. I read this back in middle school (six years ago), but I still remember it clearly.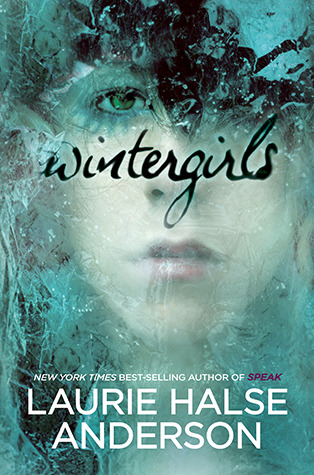 Wintergirls
by Laurie Halse Anderson
5 stars
Lia and Cassie were best friends. They did everything together and competed in everything- including who could be the thinnest and prettiest. When Cassie dies, Lia must come to terms with her obsession with weight and her drifting friendship with Cassie. I read Wintergirls back in seventh grade (which seems like a lifetime ago). This book has stuck with me ever since. I remember picking this book after reading Speak and not knowing what to expect. I had never read a sole book dedicated to the horrors of anorexia, but this novel showed me what some girls struggled with high school.
I wouldn't say I had an eating disorder. It's kind of a complicated story. In the summer before I went into seventh grade, I began feeling bad all the time. Once school started, it became worse. I was nauseous all the time, I had bad headaches, and I couldn't eat. My biggest problem in the school cafeteria was the fear of people judging me while eating. I had such anxiety over it that I became physically ill one day during lunch because I didn't want to eat in front of strangers (not one of my friends had that lunch). It was later discovered that I was sick with an actual problem, but my anxiety while eating in public and away from intermediate family was very strong when I was thirteen and fourteen. It wasn't until I read this book that I understood that eating was important. I needed it to survive. Food sustains life, but it also keeps your body and mind happy. Once I started eating more again and overcoming my public eating anxiety, I became a happier person. This book helped me understand something I was struggling with. Wintergirls came to me at a time when I didn't even realize I needed it.
Whimsical Writing Scale: 5
I think the strongest thing about Wintergirls is Lia. She's a strong character. Her voice is clear and loud. I can feel what she felt while reading. For years, the cupcake scene has stayed with me and for anyone who has read this novel you probably know what I'm talking about. It conveyed the true downfall of a teenage girl struggling with her desire to be thin and her body's desire to be happy. It's haunted me for years.
Kick-Butt Heroine Scale: 5
There was NO LOVE INTEREST. When I read this book as a young teen, I probably would've considered that a negative, but I think that is a great aspect to this novel. Lia doesn't need a love interest to rescue her from her disorder. Love can't always heal your problems. You have to heal yourself before your life can move on and I think Anderson really captured that in this novel.
Swoon Worthy Scale:
I think this novel does such an excellent job of portraying what anorexia is and its effects on a young person. I have yet to read another novel tackle the subject as gracefully and beautifully as Wintergirls. Laurie Halse Anderson has a way of writing this disease is a completely chilling way. It's like your bones are slowly frosting inside your body and you can't move. I found it to be absolutely beautiful.
Villain Scale: 5
There were a few secondary characters, but none of them really captured my full attention. Everyone was just a prop in Lia's life because she saw them as a prop. Usually a writer unintentionally writes secondary characters as props, but I felt that this was intentional. Lia was so disconnected from everyone to the point where all that mattered was her body that she didn't see anyone else.
Character Scale: 5
If you're wondering where I am now with my food anxiety, I'm proud to say I no longer have it. I eat all the time. This book in a way saved me when I didn't know I need help. Laurie Halse Anderson will always be one of my favorite writers for that reason alone. I look forward to rereading this one once I have my own copy.
Plotastic Scale: 5Cover Thoughts: Wintergirls has one of my favorite covers ever. The cover captures the iciness of Lia, her disease, the tone of the novel, and how the reader should feel while reading. I just love it.
Have you read Wintergirls? What are your thoughts on it if you have? Do you plan on reading it? Let me know down below in the comments!