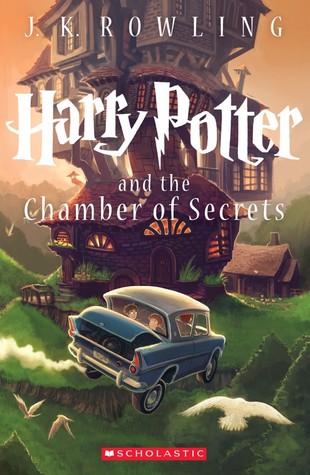 Harry Potter and the Chamber of Secrets by J.K. Rowling

Second book in the Harry Potter series

5 stars

Harry is back with the Dursleys for the summer and longs for the day when he can return to his second year at Hogwarts School of Witchcraft and Wizardry. Dobby, the house elf, pays a visit to Harry at the worst of times warning of dire plots at Hogwarts and warning him not to return. When Harry arrives at Hogwarts life is great, but then attacks begin to happen on muggleborns. Who will be next? What lurks in the castle that causes the petrifaction of his fellow classmates? The Chamber of Secrets is my least favorite novel of the Harry Potter series. It's a great novel, but in my opinion the weakest of the series. This novel does have a lot of great things. Particularly the time Harry spends with the Weasleys and the introduction to garden gnomes. The whomping willow is a classic.
Harry Potter never fails to make me smile. This novel is a little bit darker than the first. It has dark undertones and hints to what is to come. The Chamber of Secrets is particularly dark when it comes to the end and what lurks within Hogwarts.
Harry Potter is back. He's mischievous as ever. Harry discovers a good bit about himself in this novel. He realizes he's a parseltongue.
Whimsical Writing Scale: 5
I love Harry. I think he's a great character. While I don't particularly love him in this novel as I do in some of the later ones, he's a great character.
Swoon Worthy Scale: 4The Villain
-
As I've read further in the series, I appreciate this villain a lot more than I did when reading The Chamber of Secrets.
Villain Scale: 4.75
Hermoine is my favorite character in this novel. I love her intelligence and she is just a truly brilliant witch. Ron is more tolerable in this one and he doesn't grate on my nerves. In fact, this is one of the novels where I actually love Ron. Draco is still vindictive, but I love him anyway. Hagrid happens to be the character I think most about in this novel. Has anyone really ever thought about how much Hagrid must hate Voldemort? Hagrid must have hated him before he even became Voldemort for what he did to him so can you comprehend his hatred for him as a monster? Hagrid probably loathes Voldemort more than most. Gilderoy Lockhart is a complete idiot and I absolutely abhorred his character. I hate narcissistic characters who only think of themselves and Gilderoy Lockhart is one of the characters in this series I hate.
Character Scale: 5
The Chamber of Secrets may be my least favorite novel, but it is still brilliant. I love the writing and the way this book sets up the future of Voldemort.
Plotastic Scale: 5

Cover Thoughts: I love the illustrations for my addition. I don't love it as much as the first illustration but it is gorgeous.
Have you read The Chamber of Secrets? Is it your favorite Harry Potter novel? Let me know down below in the comments!