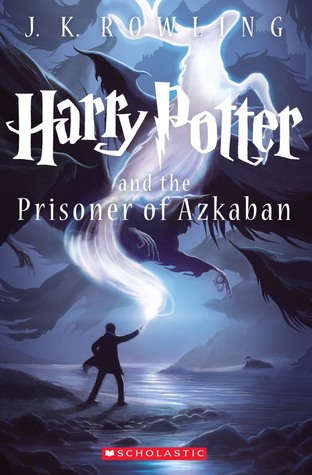 Harry Potter and the Prisoner of Azkaban by J.K. Rowling

Third in the Harry Potter series

5 stars

Azkaban, the famous wizard prison, has been containing a man connected to Harry's past for twelve years. Nobody has ever escaped Azkaban, but Sirius Black did and now he wants revenge. Harry knows he must listen to the adults about not wandering about the castle at night and stay away from mischief, but trouble always seems to find him and Sirius Black is trouble personified. In my opinion, The Prisoner of Azkaban is one of the stronger books in the Harry Potter series. It isn't my favorite, but it is a strong novel. There is great characterization in this one. We learn a lot about Hogwarts past, Harry's parents, and about the wizard world in general. Aunt Marge being blown up is still one of my favorite parts of the novel.
It's fantastically done with humor and annoyance. It's a hard to sympathize with a woman as cruel as her. One thing that wasn't as fantastic for me as the movies was the Knight Bus. I felt the Knight Bus just to be another bus, but with a bit more magic. In the movies they felt quite spectacular. It's my one qualm with this whole novel.
Whimsical Writing Scale: 5
The main male character is once again Harry. I love Harry. I know a lot of people consider him to be their least favorite character of the series, but I love Harry. He's snarky and it's fun to read things from his point of view.
Swoon Worthy Scale: 4The Villain
- I really like the exploration of the Marauders. Particularly Pettigrew's fall into Voldemort's clutches. It's really heartbreaking to see someone that James Potter trusted whole heartedly be the one to turn on him for power. Then there's Sirius, who is perceived to be the villain, but is noble and was set up by a man who is no less than a rat. Lastly, Remus, who is plagued by his lycanthropy and while it doesn't make him a villain in his werewolf state he is no longer a man and will kill anyone that crosses his path.
Villain Scale: 5
The characters in the Harry Potter series are its strongest point. Hermoine is a brilliant character as always and I really like her in this novel. Ron is my least favorite character of the series, but I did like him a bit more in this book than I did in others. Draco is one of my favorite characters. I hate him sometimes, but I love him in others. Fred and George are just fabulous. I haven't met anyone who didn't love them. I love the characterization of Sirius Black, Professor Lupin, and Peter Pettigrew in this novel. I thought it was expertly done and my favorite scene of the whole novel is when the confrontation in the Shrieking Shack occurs.
Character Scale: 5
The writing is as spellbinding as the world itself. I really enjoy The Prisoner of Azkaban. It's shocking to me that I've waited so long to read this series. I'm glad I did though. It's amazing and my favorite series of all time.
Plotastic Scale: 5Cover Thoughts: This cover is absolutely gorgeous. It's dark and haunting. I love it!
Have you read the Harry Potter series? What's your favorite novel of the series? Or movie? Let me know down below in the comments!