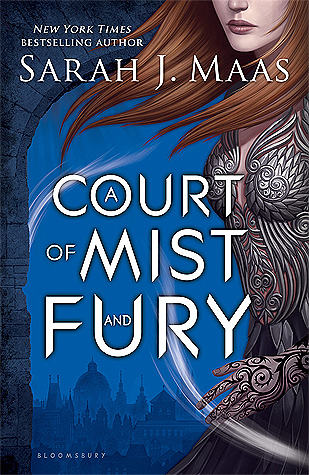 A Court of Mist and Fury
by Sarah J. Maas
Second book in the A Court of Thorns & Roses trilogy/series
5 stars
"I was the butcher of innocents, and the savior of a land."
*There will be spoilers for this book and the previous one* Don't click on spoiler tags, man, they are legit for this book.
ACOMAF stars where ACOTAR leaves off and we are left with a strong character who has been remade as an immortal High Fae. While Feyre may be stronger than ever physically, her mental state is weakened. She suffers from heavy post-traumatic disorder (PTSD) and is plagued with nightmares. To make matters worse, she's trapped in a deal with Rhysand, the High Lord of the Night Court, and must uphold her end of the bargain to be whisked from the Spring Court and her lover, Tamlin. This is where I'll stop the summary of this novel and from here on out that there will be heavy spoilers for ACOMAF, so come back to this review after you've read the book (and if you aren't interested in reading stay and get comfy).
I LOVE ACOMAF a billion times more than I did A Court of Thorns and Roses. I was swept up in that Beauty and the Beast retelling that featured fae and evil queen Under the Mountain ensnaring millions as slaves and decimating Prythian. A Court of Mist and Fury is a completely different story. This is told in the vein of a Persephone and Hades retelling, but my favorite thing about this story (and how I describe it to my friends and family is) that this story is the follow-up to what living with the Beast is like. Everyone has always questioned what the repercussions of Belle's love for the Beast are. Maas does a great job of painting
(haha Feyre pun because she loves to paint, well not in this book for a long time, but she eventually loves to again)
what living with the Beast is like and to be honest, not everyone wants to live with one and I know I don't. Sometimes the Beast is only a phase in our seasons that we must learn from and facing in kind of abuse, emotional, verbal, sexual, or physical abuse, is the hardest thing a woman can face especially a woman who has just become a new person entirely and defeated death. I used to love Tamlin, I did, but I also saw his flaws. I loved his flaws because I'm a sucker for a Beast retelling, but Maas shows that some people can't fight their inner Beast and it can hurt those around them.
BIGGEST SPOILER OF YOUR LIFE FOR THIS SERIES (But is it really a spoiler on BookTube and the Internet at this point?)
Feyre finds solace with Rhysand. The man who is painted to be vicious, brutal, and have no care for others. This is not the man that Rhysand is at all, but a mask that hears to protect the city of Velaris, a city that has gone untouched by enemies and many do not know of its existence. Maas does an excellent job at brining Velaris to life and it is a place I'd love to visit. The Night Court is mesmerizing and Maas really shines at creating a world hidden from the world. Rhysand's love for this city is so beautiful and it heals Feyre.
Whimsical Writing Scale: My Soul is Crushed, BYE.
Feyre is broken. She's disjointed and disconnected from the world streaming by her and it is so sad, but so realistic. I've never been able to buy that characters are invincible and able to keep fighting and not deal with their mental grief, but Feyre is desolated by what happened Under the Mountain. It has destroyed her and she has to learn to heal, but it takes a very long time to heal. It is hard for her to heal in her own home because she's essentially a prisoner within the Spring Court and with Tamlin's watchful eye, he won't allow her any freedom. When she's whisked away, or as she puts it, stolen away she becomes the guest of a hated enemy in the Night Court. In my review of ACOTAR, I compared Feyre to Katniss Everdeen and in this book, she becomes Feyre Acheron, Cursebreaker. She is no longer in the shadow of literary heroines and she steps out of the mold to become her own character. Feyre is strong and she has weaknesses. She is selfish, brash, impulsive, but she cares for those who win her heart and she is able to wield power that most main characters would give up at learning how to control.
"I was not a pet, not a doll, not an animal.
I was a survivor, and I was strong.
I would not be weak, or helpless again. I would not, could not be broken. Tamed."
Kick-Butt Heroine Scale: 5
"You say I should be weapon, not a pawn— they seem like the same to me. The only difference is the one wielding it."
Maas can write a hero like no other writer. We are lead to love Tamlin because Feyre loves Tamlin and despise Rhysand because Tamlin hates him, so Feyre hates him. Rhysand is alluring and so much more of person than a pawn in a story in this book. Rhys does things Tamlin didn't, like teach Feyre how to read. He's also sensual and sexy in a way most heroes aren't and where can I sign up for a Rhys? Rhys doesn't manipulate Feyre, he lets her heal and try to make her decisions (which is hard for her because she does everything with Tamlin in mind, instead of herself).
The thing I love most about Rhysand is that he knows Feyre is his mate. He doesn't force her to love, in fact, he was willing to let her marry Tamlin if it would bring her joy. The only reason he stole her away before it could happen was because Feyre was freaking out and didn't want to marry him. He never once is that typical alpha male ready to dominate and force his mate to become submissive to his desires. He breaks the trope.
"There are different kinds of darkness," Rhys said. "There is the darkness that frightens, the darkness that soothes, the darkness that is restful. There is the darkness of lovers, and the darkness of assassins. It becomes what the bearer wishes it to be. It is not wholly bad or good."
Swoon Worthy Scale: Broke My Scale
"I'm thinking that I was a lonely, hopeless person, and I might have fallen in love with the first thing that showed me a hint of kindness and safety. And I'm thinking maybe he knew that— maybe not actively, but maybe he wanted to be that person for someone. And maybe that worked for who I was before. Maybe it doesn't work for who— what I am now."
The Villains
- Tamlin is a douchecanoe. Major douchecanoe. I want to push him down a river and hope an Attor comes and eats for dinner. UGH. He boils my bones and makes me rage. I can't stand him and his actions
at the ending just prove that he is the scum of the earth. He sells the Spring Court to Hybern in alliance to win Feyre back. Allows Ianthe to kidnap Feyre's sisters and throw them in the Cauldron. Complete RAGE.
"I realized how badly I'd been treated before, if my standards had become so low. If the freedom I'd been granted felt like a privilege and not an inherent right."
More reasons why Tamlin is a douchecanoe and has be stopped from smothering women with his alpha male bullshit. Don't get me started on Ianthe's annoying insufferable ass. She has got to go. I think I liked her at the beginning of this book, but by the end I was ready to fillet her on a grill and after ACOWAR, I hate her more. Do not like her at all and she has got to. Hybern isn't nearly as scary as Amarantha, but he comes in and starts fucking shit up. He has also got to go.
Villain Scale: 5 (these bitches have got to go)
The characters in this series warm my soul. Amren, Cassian, Azriel, and Mor all have a special place in my heart and I love them so much. I have never connected to a friend group (other than the Golden Trio) in the way that I connect to those in the Night Court. They are wonderful souls and who have lived long lives and seen horrors. The Bone Carver is one of my favorite creatures Maas has introduced. He is so unsettling and I love him. There are also Feyre's human sisters, Nesta and Elain. Very different from one another, but both have equal places in Feyre's heart. I can't lie and say that I love these two because I don't, but they have grown on me more. I like them much more than I did in the first book, especially Nesta, who I initially hated. I'm conflicted about Lucien. I love him, but he didn't help Feyre and he saw her suffering. Dude, break bro code and save a sister from slowly sinking into nothingness.
The Suriel, is also a creature that holds a special place in my heart because this creature shows up again and presents the news that
I love that Suriel. That creature is always showing up and dropping truth bombs.
If you haven't read this book, I pretty much spoiled everything for you except the ending. I'll be here to spoil that in my review of ACOWAR. I hope this review made you squeal in agreement with my rampant fangirling because it took me three hours to write. I love this trilogy, I'm calling it a trilogy because it is and those extra books are just that, extra. If you read all this and haven't read this book and have no clue who the characters are that I'm talking about, you should go buy a copy.
Plotastic Scale: 5 This plot y'all… one of the best I've encountered in a sequel.Cover Thoughts: Tbh, this is my least favorite of the covers so far. I do like the subtle illusions to Illyrian leathers and the tattoos on Feyre's hand give the story away. Still it's a great cover, just not the best in the trilogy.
What are your thoughts on ACOMAF? Are you a fan or do you hate it? Let me know down below in the comments!