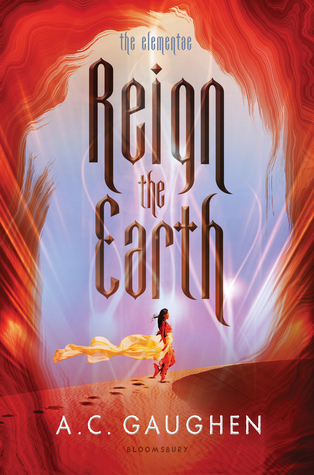 Reign the Earth by A.C. Gaughen

First in The Elementae series

ALL THE STARS

"Show them what the heart of the desert truly is."
Shalia is a daughter of the desert. She has always felt at home under the vast skies and living a nomadic life with her brood of brothers, sister, and parents. She is also used to her best friend, Kata, an Elementae who can wield water coming in out of her life as she embarks on a mission to restore the Elementae to their full power. As Kata returns, Shalia finds herself being uprooted from the desert as she is forced to marry the king of the Trifectate, Calix. Calix's family abhor the Elementae and will stop at nothing to exterminate them from the world. Kata is convinced Shalia has the same power within her that she does, but to have it would be dangerous and will put her life on the line. I almost didn't read this book. I almost passed up on reading one of my all-time favorite fantasy novels. I saw this book on Goodreads and overlooked it because I was getting tired of seeing the typical desert plot, but this is SO MUCH MORE than just the desert with magic. Gaughen establishes an intense world that revolves around a Three-Faced God and this in turn, is the basis for Calix ruling the Trifectate. His brother and sister represent the other faces of the god and have roles to fulfill. This world is complex and mature. It tackles religion, death, an abusive marriage, genocide, war, rebellion, sex, greed, corruption, and it is all interwoven with a simple, but refreshing magic system. I'M OBSESSED. I think this book reads very much like the Old Testament in the drama department (if you read Genesis, then you should because it is crazy). It's even more captivating that there is a religious system introduced that heavily decrees all rules the kingdom has enacted. For instance, unless the Three-Faced God decrees that women can work at the mills, then they cannot work at the mills. (This is a chapter in the novel and I loved that and it's so awesome to see Shalia reign as queen.) I've never read Gaughen before, but I will go and read her other trilogy because I loved her writing style, characterization, and worldbuilding. Did I mention I'm obsessed? GO READ THIS BOOK!!!!!!!!
Whimsical Writing Scale: 5
"True power does not force others to make themselves smaller," I told him (Calix).
The main female character is Shalia. At first, I wasn't a fan. She started out by whining about how she couldn't be an Elementae to her best friend. Hello, if my bestie had magical powers, then I 'd want them to. Alas, she is far from whiny. She is strong, resilient, and steadfast. She wants women to work for their mills, she doesn't want to spend her life being protected, and she is inclusive and doesn't bat an eye when her sister-in-law confesses she's a lesbian. I loved her. She was everything I want my heroines to be. She represents the woman I want my children to look up to. My heart wept for in this novel towards the end. This novel gets gritty and dark. It tackles topics that may be off-putting to many readers and I would consider Shalia's journey to be one for the mature reader. In case you do want to know possible trigger warnings, I will have them in this spoiler tag.
(view spoiler)
Kick-Butt Heroine: 5
"I want to learn to fight with you. I won't accept you as a protector. But I will accept you as something else. Something greater. Because with whatever scraps of my heart are left, I love you too, Galen."
The main male character is Galen. Y'ALL, the moment he lifted her veil I knew. I wasn't disappointed by this subtle romance. Galen is the Commander of the Trifectate guards and is Calix's brother. He is a sweetheart and I love him so much. I don't want to spoil anything, so that's all I say because I don't want to slip, but OMG be still my beating heart.
Swoon Worthy Scale: 5
"War is never so simple as a single person's greed."
The Villain-
Calix is no joke. People rant about Tamlin, but they haven't met the Anti-Christ, Calix. This man is absolutely horrible. I would equate him to Hitler. He is obsessed with eradicating a race he thinks poses a threat to him because of a prophecy and he experiments on them in inhumane ways. For example, he created something that drains the blood from Elementae and transports it into something else. Absolutely disgusting. Also, he's abusive not only to his wife, but to everyone around him. He has got to go.
Villain Scale: 5
"When there is a rebellion, no party comes out unscathed. The whole country bears a scar so deep that no one in that generation comes out the victor, not truly."
I loved, loved the characters in this book. There's Kata, Shalia's best friend, and I can't wait to see more of their relationship dynamic in the sequel. Kailos and Rian, two of Shalia's brothers who are at the center of this story. Kailos has a hawk that protects the family and keeps them in constant contact. He's so sweet, loyal, and calculating in the best of ways. Rian is a part of the Resistance and this poses a huge threat to Shalia's life, but once we got to meet him I loved him. Shalia's guards are also my favorite and my heart is breaking over them. Danae is Shalia's sister-in-law and I feel so sorry for her, but I'm going to need her to get it together before she does something to make me hate her.
Character Scale: 5
Everyone should read this book because it's AMAZING. I love it so much and it is one of the darkest novels in the YA genre I've come across. I think it leads more towards NA, but I don't care. It's wonderful and regardless of its genre, you all need to read it because you want be disappointed.
Plotastic Scale: 5

Cover Thoughts: It's not a favorite, but it is growing on me.
Thank you, Netgalley and Bloomsbury, for providing me with a copy of this novel in exchange for an honest review. Seriously, thank you. I almost missed reading one of my all-time favorite novels.
Are you going to read Reign the Earth? What are some of your favorite fantasy novels? Let me know down below in the comments!