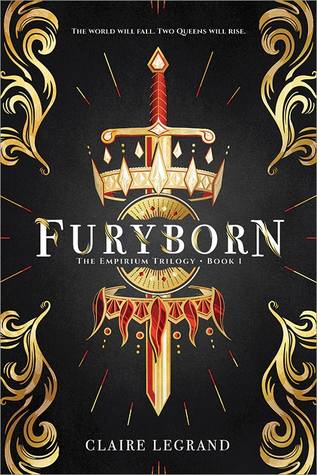 Furyborn
by Claire Legrand
First book in the Empirium series
4 stars
"Tell her she is stronger than any flame that burns."
Furyborn is an interesting fantasy. It's quite unlike most fantasies when it comes to storytelling. You see what makes this story so fascinating is that in the opening prologue we learn that Rielle, one of our main characters, has murdered her husband (the prince of Celdaria) and is the cause of chaos and corruption. In this opening chapter, a little boy named Simon witnesses his father die at the hands of the angels that Rielle has collaborated with and released from the Gates that bound them. Simon is a marque, which means he is half-human and half-angel. He is able to travel through space using deep magic and Rielle is tasking him with brining her newborn daughter to a safer place. It's a pretty epic opening chapter. What makes this novel stand out is that we see Rielle transform into the guise of the Sun Queen as when we as readers know that she is the Blood Queen who will bring destruction and death to the land. Rielle is forced to undergone seven trials to prove that she is the Sun Queen and that she has the right to be canonized. In an alternating timeline, we follow Eliana who is known under the moniker of the Dread of Orline. She is a fierce assassin who lies to herself that killing doesn't bother, but it weighs heavy on her conscience. Eliana finds herself caught up in an elaborate plot with the Wolf, a brutal man who is as feared as she, as they make an unlikely alliance to deliver a princess and find Eliana's missing mother.
I think it's pretty obvious that Eliana's storyline isn't the most interesting of the two and it is hinders this novel. However, towards the end the importance of Eliana's story is revealed and it makes the overall novel much more enjoyable. At the start of my reading experience with Furyborn, I was salty (for lack of a better word) that I was being thrust between two very opposing views and one being an obviously weaker storyline. However, Rielle's story is so amazing that it outshines the negatives of Eliana's and the seamless connection of the thousand-year timeline is remarkable. I'm impressed with Legrand's conceptualization of these two periods and their very different outcomes. Legrand's writing style isn't the most beautiful, but it is addictive and the story conclusively makes a ton of sense and shows how brilliantly planned it was. I'm really impressed with Legrand and I wanted to be snooty and hate this novel, but I can't. It has a lot of good points. It's not perfect, but it really won me over in the end.
Whimsical Writing Scale: 4
There are two main female characters: Rielle and Eliana. Rielle is my favorite PoV and character. Knowing the outcome of her antagonistic future makes seeing her go through friendships, love, cruelty, and politic battles so much more interesting. She has a quiet bloodlust and it seems a little unlikely that she would become who we see her become in the opening chapter, but I'm so excited to find out what drives her to murdering Audric the way it was described. It also makes me wonder if she and her actions are misunderstood. I loved her progression through the trials and in the end, I was really excited about where her character is going. Eliana is kind of stale. I say this because I have a strong dislike for anyone who manipulates other people for their personal gain and safety without looking at the bigger picture and the damage it could potentially cause. I suspect I have a conflicting personality with her, which is probably why I don't like her, but also, she made so many bad choices throughout this novel. The last couple chapters felt like a completely different character and I was conflicted about if I was beginning to like her or if it was a trick. Hopefully, she doesn't stay self-centered forever.
Kick-Butt Heroine Scale: Rielle-5 Eliana-3
There are two main love interests. There is Audric, the prince of Celdaria, who has been best friends with Rielle since they were small and the Wolf, who is a protector of Eliana, much to her dismay. I really both of these guys. Audric is sweet and he is your typical prince, but he is seemingly lovable and has a good heart. Wolf is great. My jaw hit the ground when we found out who he was. I knew, but I didn't see how and then it made sense. Good stuff. Neither of them is particularly swoon worthy, but I like both of them well enough and they both provide some spark. Also, Rielle and Audric have some steamy sex scenes, so this is definitely mature YA.
Swoon Worthy Scale: Audric-3.5 Wolf-3.5The Villain-
We know early on that Rielle becomes a villain, but we also know that Corien, an angel, is a mastermind behind a lot of what goes down. Man is a skeevy and I want Rielle to shake him but knowing she won't makes me sad.
Villain Scale: 3.25
There are so many characters in this novel. The ones I really liked were Lu(divine), Remy, and Navi. Lu was my absolute favorite she was comedy gold and the ending! Y'all, I was shocked and my jaw dropped. Legrand had me surprised. I didn't see that coming! Remy is Eliana's brother and he loves to tell stories about Celadria and the time of magic. He is obviously a wonder that must be protected. Navi is a princess that Eliana and Wolf are bringing back home and I liked her, but she wasn't my favorite. She's still worth mentioning though.
Character Scale: 4.5
Overall, I'm completely surprised with how much I enjoyed Furyborn because I thought I was going to lowkey hate it. Legrand has definitely made me want to continue with the series. Although I must confess I would be okay with completely ignoring Eliana and just focusing on Rielle's storyline because where it left off was a shocker. Click spoiler if you want to read a sentence that is technically a spoiler, but will rip your heart out,
"No one can be sure of Audric the Lightbringer's last words, but in the days before the Fall, whispers traveled fast across the world. His last words, the whispers said, were for his murderer: 'I love you, Rielle.'"
So, I'm slightly deceased by that storyline in general, but looking forward to reading the series just so I can see this scene through Rielle's own eyes. I definitely recommend this to fans of fantasy who are looking for a grittier and more mature storyline.
Plotastic Scale: 5

Cover Thoughts: It's not really a new cover or an original concept, but it's nice on the eyes.
Thank you, Netgalley and Sourcebooks Fire, for providing me with a copy of this novel in exchange for an honest review.
Have you read Furyborn yet? Or planning on picking it up? Do you like reading about morally grey characters? Let me know down below in the comments!