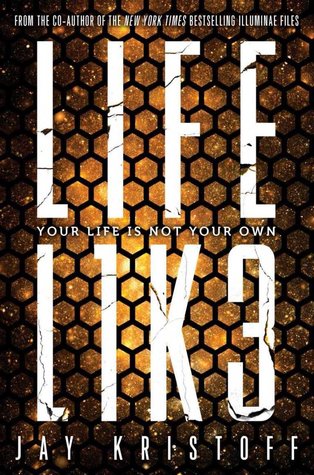 LIFEL1K3
by Jay Kristoff
First in the Lifelike series
4.25 stars
"This is not the end of me. This is just one more enemy."
Eve spends her time destroying murderbots in the Dome in hopes to get enough money to buy medicine for her sickly grandpa. Eve isn't completely human. Her grandpa enhanced her brain after a horrible crash that killed her family. Along with her ragtag team—Lemon, Cricket, and Kaiser—they find themselves in a predicament when a bot in the Dome destroyed when Eve lets out a deadly scream before the Goliath destroys her. Suddenly, they are on the run from the Brotherhood (a group hellbent on destroying abnormal humans by crucifixion), a hired hit man, and a group of lifelikes (genetically modified robots with extreme human emotions who have broken the three laws that robots live by. This is a very different sci-fi novel and I must say that I really enjoyed it. I'm not a sci-fi reader. It's not really my favorite genre and I've read some duds in the genre that have put a dissatisfying taste in my mouth, but I really enjoyed Illuminae, which is co-authored by Kristoff. I've been meaning to read his single work for a while now but have just never got around to it. I do really enjoy his work and I can tell which parts of Illuminae were written by him now because he tends to focus on more universal themes of today and plugs them in a slightly satirical setting to a slightly possible, but still impossible world. I'm not going to say that this novel is perfect because it's not. There were a lot of times where I was reading and I was wondering what the purpose of this was in the grand scheme of things (I'm looking at you, Kraken chapters), but Kristoff is really great at diction choice and weaving together things from the first sentence to the middle of the novel to a showstopper ending that left my mouth hanging open and wanting more than what was offered. I feel like I have to be so secretive about this novel because it's primary focus is on uncovering the secrets of Eve's life and just when you think you know who she is—BAM! — there is another secret. I really like that about Kristoff's writing. He keeps the reader on their toes and it's a brilliant way to paint this story.
Whimsical Writing Scale:4
The main female character is Eve. This is a multifaceted character and it is kind of overwhelming. By the end of the novel, I'm more confused about who this character is and the actions she chooses to make. Y'all, this book is wild! Eve is wild and I really liked her struggle and constant inward battle. She was brash, feisty, and headstrong. Sometimes she would rush into things and it wasn't always the best idea, but it was realistic to her thought process. I was rooting for her. I liked Eve, but now I'm not so sure.
I'm always looking for a good antihero to root for though.
Kick-Butt Heroine Scale: 4.25
The main male character is Ezekiel. We run into Ezekiel early on in the story after the Dome bot incident that causes Eve and her friends to be on the run. Ezekiel is a lifelike. A robot that is created to look exactly like humans and is based off the personalities of by the Gnosis founder's children as well as employees. Ezekiel is the keeper of secret after secret. I like Ezekiel, but I don't feel like I really know who he is. I'm showed who he is through flashbacks, but I don't know who Ezekiel is as something outside of being lifelike. I don't think he knows who he is either and so I'm hoping that as the series progresses we can begin to see his personality and convictions take shape outside of being connected to one woman.
Swoon Worthy Scale: 3.5
"No matter how perfect they make us, they can't make us human. It's your flaws that make you beautiful, (name redacted due to spoilers). It's the imperfections that make you perfect."
The Villain-
I really want to talk about this section, because I really enjoyed the multiple villains after Eve and her crew. There was the preacher who was unsettling but upped the ante with having a tangible pursuer. However, the lifelikes in the tower of Babel (Gnosis headquarters) were my favorite thing about this novel. I want to say so much more, but if I say a little I could give the whole plot away and this is just a fun novel to watch unfold gradually and be sucked in, so I want the reader to have the full experience. (So, I won't be talking about spoilers in this review, but if you would like to message me or comment to discuss, I would love to continue this conversation.)
Villain Scale: 5
"Your past doesn't make calls on your future. It doesn't matter who you were. Only who you are."
Okay, one of the best things about this novel is the ragtag group of friends alongside Eve. There's Lemon who has a lot of secrets and is fiercely protective of Eve. I loved their friendship so much and it was one of my favorite things about the group dynamic, but also the story. Lemon also has a great storyline and stands on her own as a character. I suspect that the next novel will heavily focus on her because she is the true hero of this story. Cricket is the most adorable little bot. He curses and has the best lines. He's fiercely loyal to protecting humans because of the laws that robots must follow, but it's obvious that he may feel some love towards these two girls outside of programming. He also had the scenes that made me laugh the most. Then there is Kaiser who is Eve's blitzhound. He's a robotic dog with the brain of a real dog and he was so cute. He went through some stuff and if you are not of violence towards animals there is a scene in here that is really graphic (even if it is a robot, it's still graphic).
Character Scale: 5
This novel has a lot going on. It feels very much like a movie and I think this would make an excellent film. I'm really excited to see where the story goes because it was obvious that this novel was an explanation as to how
a character became a villain and another became a hero despite being best friends.
I can't wait to continue with the series because I was completely surprised by how the events unfolded. I definitely recommend this to fans of Kristoff and readers who are looking for something a little bit more on the serious side of sci-fi.
Plotastic Scale: 4.5

Cover Thoughts: I don't like this cover at all. It is so simple and just looks so mediocre.
Thank you, Netgalley and Knopf Books for Young Readers, for providing me with a copy of this novel in exchange for an honest review.

*Quotes are taken from an ARC (Advance Reader Copy) and are subject to change upon final publication.
Are you planning to read LIFEL1K3? Are you a fan of Jay Kristoff? What are your thoughts about sci-fi novels (fan or foe)? Let me know down below in the comments!