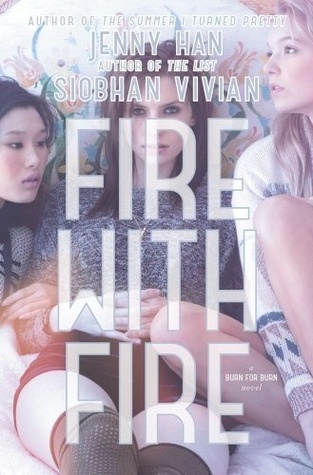 My review for
Burn for Burn
can be read with the link if you are intrigued, but don't want minor spoilers.
Fire with Fire by Jenny Han and Siobhan Vivian

Second in the Burn for Burn trilogy

4.5 stars

Fire with Fire picks up exactly where Burn for Burn left off. Lillia, Kat, and Mary are back. They have a new plan. This time Lillia will have Reeve fall in love with her. He's been chasing her for years so what better way to finally screw him and Reenie up. Reenie is worse than before and she's ready to rule to the school and take Lillia down. Mary has it worse than everyone because something just isn't quite right. Homecoming showed her that something inside of her wasn't quite right. Some things just have to be fought back with fire. I've created a monster. I read Burn for Burn free on PulseIt and then bought the book for my sister as a Christmas present. She then bought the sequel and told me I had to read it. This was my second read book of the year and one of the most torturous endings. I HATE cliffhangers! My sister was so proud of herself for making me scream at her in rage. I read this in January and the final book has still yet to come out. Do you feel my pain? If not, at least my sister is with me to feel it. We can wallow together.
The main female characters are Lillia, Kat, and Mary. This book is told in alternate POV. Unlike the last book where Lillia was my least favorite, all these girls became my favorite. I liked them all. I mean Lillia's whole romance with Reeve made this story for me. It was deception at its finest and when it turned to something more I loved it. Kat was a pretty strong character in this one and I loved her conflict with college as well as her feelings for Alex. Mary is still the character I sympathize the most. Her life is just heartbreaking.
Kick-Butt Heroine Scale: Lillia-9 Kat-9 Mary-9
The main male characters include Reeve and Alex. Reeve is the biggest jerk in the world, but I still like him. I actually really started to like him in this one. Alex isn't as bad, but I'm not the biggest fan of him. He chases after Lillia too much when it's obvious she doesn't want him. He's borderline stalker at times.
Swoon Worthy Scale: Reeve- 8 Alex- 7The Villain
-
OMG! You will not believe who dies in this one. Just thought I'd drop that by.
You looked, didn't you? Feel intrigued?
Villain Scale: 8
That's basically all the characters in this trilogy. Besides Mary's aunt, who seems crazy but I'm not really sure about. I suspect she'll talk a lot more about this discovery in the final book.
Character Scale: 9
The wait is just so hard. It is worth it though. Deception and revenge are just so fun to read about it.
Cover Thoughts: I love the old covers. The coloring was gorgeous and so pretty. The new ones not so much.