What is Aesthetically Reading? It's a new feature on my blog where I showcase photographs of books I own. Books are supposed to be aesthetically pleasing. You want a book you enjoy looking at when you aren't immersed into the story. There are little things that make books special that aren't inside the story, but that make up the physical copy. It could be the spine, dust jacket, art work, or anything that I think is worth sharing. I hope that this can help you decide whether you want to buy a copy of this book or not because it is definitely worth it. Note: I will be showcasing my ARC copies, which aren't finished, but are still fun to show. I hope you enjoy this feature!
Previously featured:
17 & Gone
Today I'll be showing my copy of:
Across the Universe by Beth Revis
Published: January 2011
Publisher: Razorbill
Page Count: 398
Summary (taken from GR): A love out of time. A spaceship built of secrets and murder.

Seventeen-year-old Amy joins her parents as frozen cargo aboard the vast spaceship Godspeed and expects to awaken on a new planet, three hundred years in the future. Never could she have known that her frozen slumber would come to an end fifty years too soon and that she would be thrust into the brave new world of a spaceship that lives by its own rules.

Amy quickly realizes that her awakening was no mere computer malfunction. Someone - one of the few thousand inhabitants of the spaceship - tried to kill her. And if Amy doesn't do something soon, her parents will be next.

Now Amy must race to unlock Godspeed's hidden secrets. But out of her list of murder suspects, there's only one who matters: Elder, the future leader of the ship and the love she could never have seen coming.
I love the cover, but I think that the more I look at it the more I'm not a fan of it. I don't like the girls face/ body placement. I like the concept of the spaceship on the cover, but I would've preferred it to show something inside like more the what the Godspeed looks like. My edition is the paperback edition that was released in 2011 later on the year. I think this was supposed to be the idea of a cover change.
I love the spine for this. It's nothing amazing, but when I look at it I immediately have this scifi vibe. Also it looks great on my shelf.
I like the layout for the back of this copy. It's separated in a very clean way with the ship lining to block out different features (the summary, quotes, and image of book two). Upon looking closer I fall even more in love with the back. You can see the outline of the Godspeed floating through space and it's pretty striking.
This is the inside jacket. It's a map of the Godspeed and I really love it. I think it's my favorite thing about this whole novel. I wasn't a huge fan of the story, but I love looking at the map and the divisions of the ship.
There was this one time I met Beth Revis at a convention. It was pretty cool. The inscription says, "To Sarah- Reach for the stars! Beth Revis". It's pretty cool that I have this signed because it makes this page a whole lot cooler since it's your standard title page.
The story is told from alternating POVs- Amy and Elder. Each chapter header starts with a simple number and the name. It's nothing fancy.
Are these called brackets? (I honestly don't know what these are called. If someone could tell me that would be great!) Whatever they are called I love how striking it is on the top of the page. It's a very beautiful way to showcase the title. It reminds of a spaceship launching off and leaving a smoke trail.
Here's the other side to it's counterpart.
The end pages of Across the Universe are very beautiful. The thing I like about this paperback is that it has some hardback like features.
Should you buy a copy of Across the Universe?
I recommend it for sci-fi fans. I wasn't a huge fan of AtU, but I do think it's a book worth looking into. I honestly wouldn't recommend buying a copy if you are a series completer because the third book in the trilogy had a cover change and it doesn't match this edition or the original. If that doesn't bother you, I say go for it!
Other editions include: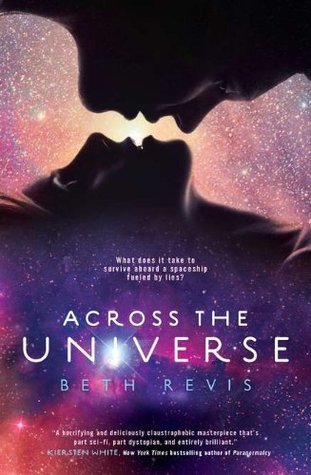 Original Hardcover, Original Paperback, Cover Redesign, Special Hardcover
Do you plan to buy a copy of Across the Universe? Do you already own it? If you own it which edition? Let me know down below in the comments!