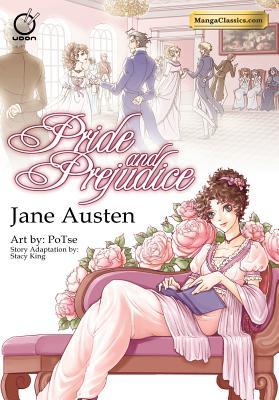 Manga Classics: Pride & Prejudice by Jane Austen & PoTse

5 stars

Pride & Prejudice is a popular beloved classic. It's one of Austen's most renowned works and is probably considered one of the world's greatest loved classics. Merchandise for P&P is everywhere and it makes since that this famous novel would be adapted into a manga format. I personally haven't watched the movie all the way through or read the book, but I definitely plan to. I've only known bits and pieces of the plot and characters, but the pieces I knew didn't do these characters or the story justice. It's a beautiful masterpiece and I can see why it's so acclaimed.
Whimsical Writing Scale: 5
Lizzie and Darcy are probably literatures most loved couple. Darcy is a name that most women fawn over and get giddy over discussing. I can definitely see why he's a stunner and I totally can't wait to read P&P to experience more of him. I love Lizzie's personality and her stubbornness. She is level headed, but also too stubborn for her own good.
Kick- Butt Heroine Scale: 5

Swoon Worthy Scale: 5
I love all the side characters. Lizzie's family, Bingley, and Lizzie's friend are all so enjoyable and bring a small presence to the story that I enjoyed.
Character Scale: 5
I definitely enjoyed this manga classic and I'm convinced that P&P will be a book that I will love. Can't wait to pick it up!
Plotastic Scale: 5

Cover Thoughts: I really like the illustration. It's not amazing, but it's quite beautiful in a simplistic tone.
Thank you Netgalley & Udon Entertainment for providing me with a copy of this book in exchange for an honest review.
Have you read Pride & Prejudice? What are your thoughts on it? What are some adaptations that you would recommend? Let me know down below in the comments!