Manga Classics: The Scarlet Letter
by Nathaniel Hawthorne & SunNeko Lee
3.25 stars
The Scarlet Letter is a popular classic that can be considered the basis of American literature. Most schools study this book in great detail, so it's a pretty big staple in classics. Naturally the fabulous creators behind Manga Classics are going to adapt it. I have read The Scarlet Letter, so out of all the manga adaptations it's the only one I can fully agree with or disagree with interpretation wise. I personally am not the biggest fan of The Scarlet Letter and have been putting off reviewing for quite some time because my thoughts on it aren't concrete. I always find classics are to review, but in the manga format I find it easier to express my feelings towards style, imagery, and themes.
Instead of the manga starting with the iconic scene of Hester walking out of jail with a bold letter A sewn into her clothes, this story starts with Hawthorne finding a manuscript of The Scarlet Letter. I don't think that this takes away from the story, but it felt weird and forced. I'm not a hundred percent behind this introduction and I think for a first time reader interested in The Scarlet Letter it takes away the severity of what the letter A stands for- a start to story that ends with no solid representation of a letter because the A becomes ambiguous in meaning.
I do really like the art style of black and white with a stark red A. It really makes the meaning behind the letter stand out and I thought it was a brilliant idea. I do have a problem with how obvious the artwork makes all the symbolism out to be. The point behind Chillingworth is his representation of the devil, but it's a very underhanded message throughout the novel. In this adaptation, it plainly depicts him as evil with one image having snakes behind him. Another thing that kept The Scarlet Letter interesting was the suspense of who the baby daddy was, but it's so painstakingly obvious that there is nothing to keep the reader turning the page.
This is a good adaptation for readers who couldn't finish The Scarlet Letter or are interested, but unsure. I personally am not keen on the lack of metaphors that were so central in Hawthorne's tale being ignored, but that's the price of physical adaptations. Sometimes pictures miss the mark.
Art Scale: 4.5

Themes Presented: 2

Plotastic Scale: 3.25

Cover Thoughts: I really like the illustration used and feel that it would catch readers' attention.
Thank you, Netgalley and Udon Entertainment for providing me with a copy of this book in exchange for an honest review.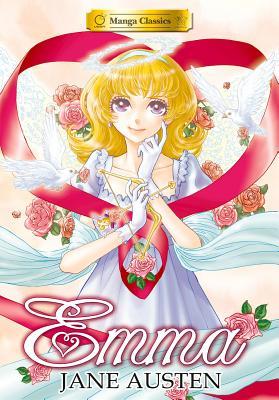 Manga Classics: Emma
by Jane Austen & Po Tse
3.75 stars
Emma is a novel that I have yet to read. Sadly I have yet to read any Jane Austen and the manga classic adaptations of P&P and Emma are the only exposure I've yet to have. I have to say, I do enjoy them and can't wait to pick up Austen's novels. I think that in the Manga Classic division the Austen adaptations are the strongest- the best being P&P. I didn't know much about Emma going in, but I know all about her now. Emma is a young girl who has just made a love-match and she is convinced she's a matchmaker. This leads to a lot of confusion and Emma being a frustrating character, but young women are easily mislead so Austen definitely hit the nail on the head with her portrayal of Emma.
I'm not sure if Emma is a revered classic, but I think it definitely should be. It has all the same workings of P&P, but it feels more fleshed out. I personally enjoyed P&P more, but I won't decide on actually love for Austen until I've experienced her novels. I like the premise of a matchmaker because I think that this is one of the first introduced in literature and it's easy to see Emma's heavy influence in culture today, but I agree with Mr. Knightley- Emma should mind her own business instead meddling. It just leads to A LOT of drama. More so than P&P which had more drama than I was expecting, but this was tenfold.
My biggest problem with Emma lies with the character Emma. She is infuriating. She feels the need to control situations and hates men who judge and base people by social status and class, but she won't allow her friend to marry a farmer. When I think about Emma represents society and the need to place people into classes as well as being hypocrites. So, she becomes a lot better character if I view her as that.
The art style is quite lovely. I just really enjoyed looking at the art and Mr. Knightley wasn't bad to look at either. This is one I definitely recommend checking out!
Art Scale: 5

Character Scale: 4

Themes: 2

Plotastic Scale: 4

Cover Thoughts: I'm quite fond of this cover. It's just very striking and beautiful.
Thank you, Netgalley and Udon Entertainment for providing me with a copy of this novel in exchange for an honest review.
Have you read any Manga Classics? Which ones are your favorites? Any classics you want to see adapted into manga format? Let me know down below in the comments!