I don't have any pretty pictures to chronicle this journey currently, but this is only the beginning to a long journey.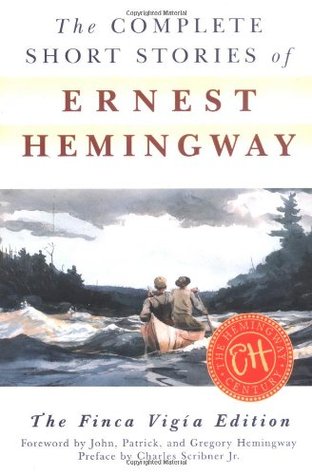 The Complete Short Stories of Ernest Hemingway
4.25 stars (Subject to change as I make progress)
So I haven't read all the short stories in here, but I plan to someday and as time goes on I'll hopefully read the whole collection. For now I'll mark this as a read novel and chronicle my journey through Hemingway as I read.
I actually haven't been intrigued by Hemingway like I am by some classic writers. My English teacher recommended a few of the short stories in this collection to me and I'm glad that I've finally been exposed to Hemingway on my own volition. It's harder to enjoy a writer who is forced upon me in school unless I'm really intrigued by the premise or ideas of the author. Then again I was excited to read The Road and that was a huge dud so excitement doesn't always lead to satisfaction in reading. Hemingway is a great writer. He's simple, but not too simple. There's a context behind his words and he doesn't invent symbols for the sake of doing so (I'm looking at you, Nathaniel Hawthorne). I can definitely see why he is considered to be one of America's greatest writers.
"Isn't love any fun?
No." The End of Something
3.5 stars
This story follows Nick and Marjorie briefly as they fish. The scenery and tension of this trip showcases that their relationship is nearing its end. Nick is the kind of who ends his relationship because Marjorie "knows everything" because "he taught her everything" and while that's a dick thing to say and think it's also fitting for the story. I also really enjoy the way I felt while reading. I felt I was entering the end of something that I had no knowledge of prior and I was only witnessing the end and the possibility of and a new beginning. Simple and it's only four pages, but there's a lot to take away.
"Then I'll do it. Because I don't care about me." Hills Like White Elephants
5 stars
This is just fantastic. I was warned prior that this caused a lot of controversy, but I immediately understood where this story was going with that certain word
(view spoiler)
. It's a great look into a couple who want to blame a their failures as a joint partnership on an external force (or internal depending on how you look at things). I just really loved something about this psychologically and it really proved to me that Hemingway is a fantastic writer.
"It was all nothing and a man was nothing too." A Clean, Well-Lighted Place
4 stars
An old man enjoys the comfort of a cafe. He's an alcoholic who recently tried to kill himself and the waiter who is married proceeds to be a huge douchecanoe. The other waiter understands. It's an interesting story, but I'm not particularly captured by the story itself. The writing though is fantastic.
I myself did not want to sleep because I had been living for a long time with the knowledge that if I ever shut my eyes in the dark and let myself go, my soul would go out of my body."
Now I Lay Me
4.25 stars
This is an intense look in the psyche of men at war. The narrator of this story is in a tent with another men and they both can't sleep. The narrator, particularly, can't sleep because he feels that his soul will instantly leave his body once in a deep sleep. It's a really dark story and it's all very unclear to the circumstances. It's more speculative than stated that Nick (the one from previous stories) is wounded and in a recovery tent of sorts. Nick still isn't married and I think that this is hilarious. *See story above
The End of Something
*
As of early April 2016 I have only read four Hemingway stories and I'm pretty proud of that. More to come...
Thoughts So Far:
I feel a connection to Hemingway. There's something about how he paints humanity and uses the atmosphere around him that really creates this beautiful picture and I'm really excited to buy this collection and continue on into this great journey.
What are your thoughts on Hemingway if you have read him? Are you interested in reading him? If so or if not I recommend just checking out a short story (Hills Like White Elephants is a good place to start). Let me know down below in the comments your thoughts!