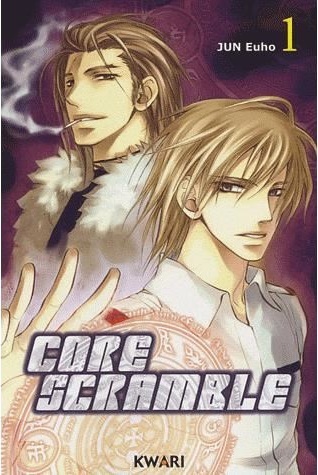 Core Scramble Volume 1
by Euho Jun & Jeong Lee
1.75 stars
The basic premise that I gathered is that there's a guy fighting on a team. This team uses magic to kill "bugs", but the chief on his team is pretty much a jerk. I suggest just reading the synopsis on GR because I just don't know how to describe this. I have no clue what happened for the majority of this manga. The art style is messy and is not my preference. I was really interested in picking this one up because it's a Yaoi (m/m manga), but I didn't feel any chemistry between the characters or find must interest in them. Since this novel relies heavy on action and no explanations, the plot is disjointed and the flow is rocky at best.
Whimsical Writing Scale: 2

Art Scale: 2
The characters are selfish, but have believable motives for their actions. I just couldn't connect to them and have no interest in finding out the rest of their story.
Character Scale: 1.5
This manga just wasn't for me, but I'm sure that there are readers out there who will absolutely adore this.
Plotastic Scale: 1.75

Cover Thoughts: The art is phenomenal, but they have jawlines for days.
Thank you, Netgalley and NetComics for providing me with a copy of this manga in exchange for an honest review.
Descender Volume 1: Tin Stars by Jeff Lemire & Dustin Nguyen

4.75 stars

"Because they fear us, TIM-21. Because they were hurt and they wanted to hurt something back. Because they are human."

The basic idea behind this graphic novel, without going into too much description, is that massive robots took over. This massive takeover has caused humans to condemn robots. TIM-21 and his friends are struggle to stay alive in a universe that outlaws androids. It's a very simple story and it's probably not a very unique story for the sci-fi genre, but I don't have much background with android sci-fi, so I can't say. Regardless, this graphic novel is beautiful. I will give a warning, though, the beginning for this is not strong at all. This problem lies with the opening art sequences. The people are horribly drawn and the coloring does not save the art in the slightest, but the spacecrafts are magnificent. I suspect that this messy, ugly art is intentional— it's supposed to represent the discord the world is facing with the Harvester attack. After this attack, the art drastically changes and it starts to flow and even out into a beautiful art sequences.


The plot is developed and well thought-out. The writing in this graphic novel is phenomenal. There are scenes that are emotionally impactful. This story is dark, bleak, and depressing. While this is a story where the whole world is against robots, these robots are compassionate souls that live in constant fear, but have so much hope in their hearts. It's absolutely spectacular.


Whimsical Writing Scale: 5

Art Scale: 4

Character Scale: 5

Plotastic Scale: 5

Cover Thoughts: I LOVE this cover so much. It's what caught my attention and I adore it.

Thank you, Netgalley and Image Comics for providing me with a copy of this graphic novel in exchange for an honest review.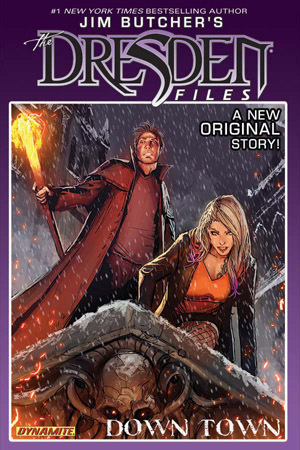 Dresden Files: Down Town by Jim Butcher, Carlos Gomez, & Stejpan Sejic

4.25 stars

Harry Dresden is Chicago's local wizard-for-hire and his apprentice, Molly, are ready to stop a dark sorcerer who has made an alliance with a mob boss in this Dresden Files graphic novel. I have never read a Dresden Files novel and I was worried going in that I'd be completely lost, but I wasn't. The art and plot line for this graphic novel is intense and has a great supernatural element. This is fun to read and it has definitely piqued my interest. I'll definitely be picking up a Dresden Files novel in the future.


Whimsical Writing Scale: 4

Art Scale: 4.25

Character Scale: 4.5

Plotastic Scale: 4

Cover Thoughts: The cover doesn't have the most striking art, but it fits the tone and mood of the story.

Thank you, Netgalley and Dynamite Entertainment for providing me with a copy of this novel in exchange for an honest review.
Have you read any of these graphic novels or plan to? What are your thoughts on graphic novels? Do you prefer them to manga? What genres are your favorite to see combined with art? Let me know down below in the comments!