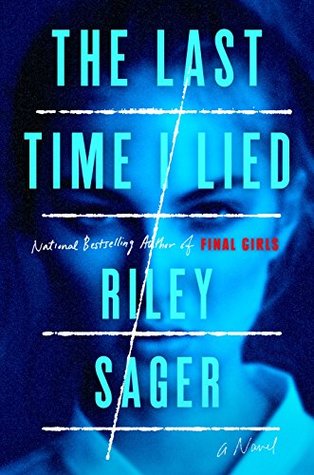 The Last Time I Lied
by Riley Sager
5 stars
"Two Truths and a Lie isn't just a game. For most people, it's a lifestyle."
Emma Davis has become an expert liar in the last fifteen years. Ever since her three cabin mates at Camp Nightingale went missing she has been keeping secrets about how much she knows concerning the disappearances of Vivian, Natalie, and Allison. The girls have haunted her since and she can't stop painting them. Girls dressed in white covered by the dreams—never found. Francesca Harris-White wants to reopen Camp Nightingale to the public and she wants Emma to come back as a paint instructor. Emma is hesitant, but she knows that she must face the ghosts of her past and discover where the girls went. Camp Nightingale has a lot of secrets, but the secrets of its origins may have something to do with the haunting grip these lost girls, particularly Vivian, have on Emma. This is hands down one of the best thrillers I've ever read. I was engrossed. I couldn't stop turning the pages. My adrenaline was pumping and I HAD to know what happened to these girls. Sager paints a visceral and haunting landscape with the vast woods of Camp Nightingale. They have a hold on Emma, but also the reader. I'm a fan of creepy camp tales and stories that surround woods because there's something so terrifying and claustrophobic about all this never-ending space that is a canopy of trees. Sager writes with just enough information to leave the reader tantalized and starving to keep reading. I became addicted to this story. It was intense and it has one of the best plot twists at the end. I didn't see it coming at all. It blew me out of the water and left me sitting with my mouth hanging open whilst making strange sounds that sounded like a fish.
"So much water. So much land. So many places to disappear."
Whimsical Writing Scale: 5
Emma is an unreliable narrator. Don't trust anything she says because she is the type of thinker who shuts out a lot of the past and only focuses on bits that she wants to remember. The alternating timelines of past and present were engrossing and expertly woven that the present would trigger a memory of the past in just the right moment for the story to develop seamlessly. I'm a fan of omission in my suspense and thrillers because it ups the ante and keeps me on my toes.
"Lying to myself. It's the only falsehood I allow."
Kick-Butt Heroine Scale: 5
Now I'm going to talk about the characters. There's a lot of them. We have the original three campers—Vivian, Allison, and Natalie— and we have them mirrored by the current campers—Sasha, Krystal, and Miranda. The chapters that focused on Vivian and Emma's dynamic were so interesting. It felt kind of like a weird manipulation game, but also a genuine potential friendship. It was a lot. I also loved Emma's dynamic with Sasha, Krystal, and Miranda. I loved when they went canoeing and hiking together to uncover a map that Vivian had left behind. There's Franny who owns the camp and is the epitome of nice and threatening. Her assistant, Lottie, who is always there and hovering. There's Chet and Theo, the adopted sons of Franny. Theo was accused of being the ones to murder the girls (by Emma) and it leaves a lot of tension. There's also two returning campers—Casey and Becca— girls who both didn't get along with Vivian. I must say after reading this novel and knowing what happens, I'm blown away with how Sager developed the characters and dynamics to keep the reader guessing.
"Everything is a game, which means that sometimes a lie is more than just a lie. Sometimes it's the only way to win."
Character Scale: 5The Villain-
I want to talk about why I love this novel so much, but that means spoiling so don't click on the spoiler because you will know what happens and why this book astounded me.
Chet is behind the current campers going missing in hopes to pin these murders on Emma to clear his brothers name. I kind of suspected that Chet had something to do with it because he seemed suspicious at the beginning and my red flag went up, but I didn't expect this level of craziness to occur. What really threw me for a loop was the reveal of what happened to Vivian, Natalie, and Allison! Where the bodies turned out to be buried—the asylum that the lake drowned—was genius. Even more mind boggling was the fact that Vivian was researching this place not as a revenge against Franny, like I originally thought, but as a place to bury the bodies of Allison and Natalie. You heard me right, folks! Vivian was alive the whole time and I am completely blown away by this because I didn't suspect that possibility at all.
So, yeah, I was blown away and I can't stop talking about this novel.
Villain Scale: 5
If you want a fast-paced summer read, this one is perfect. It's set during the summer and it involves lies and secrets intermixed with history and legends. It's a thrilling and unputdownable read. I'd love to hear your thoughts on the big reveals because I need to discuss this novel with someone. I highly recommend this!
Plotastic Scale: 5

Cover Thoughts: I love this blue and mint combination so much. This cover is creepy and bright. I love it!
Thank you, Netgalley and Dutton, for providing me with a copy of this novel in exchange for an honest review.
Are you planning to read The Last Time I Lied? Did you enjoy Final Girls? Should I pick it up? What has been your favorite suspense novel this summer? Let me know down below in the comments!