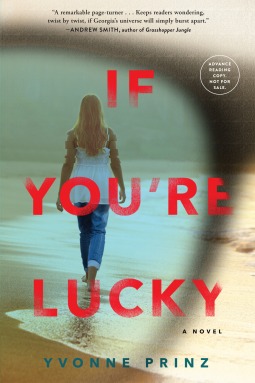 If You're Lucky
by Yvonne Prinz
1.5 stars
If You're Lucky follows Georgia after her brother, Lucky, drowns in an accident. But it couldn't have been just bad luck, Lucky was lucky in life. He was smart and a well-versed surfer who knew better than to tackle dangerous waters. Then Fin comes to town and he seems to be taking over Lucky's life. Did he kill Lucky? When I first got this novel from Netgalley months before it was released I quickly read and planned to write a review before October 2015. It's now March 2017 and this review is so overdue. I had several problems with this novel. This review may seem a little ranty, but I have a lot to rant about. I originally thought this was going to be a contemporary novel and it is, but it's also a mystery novel that deals with mental illness. Sounds intriguing, right? NO. No. Nope. Definitely not. This novel completely portrays mental illness in a very problematic way that could potentially harm other young readers who suffer from schizophrenia.
This plot is obvious. The atmosphere is supposed to feel mysterious, but it felt contrived and absolutely underwhelming. I rolled my eyes four times in seven pages because this is just that kind of book. This writing inspires an intense feeling of mockery within me. I can't stand writers who write mysterious plots that try so hard. Don't believe me?
"I adore gloomy." He grinned. "Me too."
The author has to tell us that the tone is gloomy and that the characters love gloomy things because life is gloomy and boo-fucking-hoo. Gloomy gloom and doom.
Whimsical Writing Scale: 1.5
The main character is Georgia aka George. I absolutely couldn't stand her. She was a spoiled brat with an overwhelming sense of entitlement. She felt that everything had to be handed to her or that some great injustice was being done to her. At the beginning of the novel, George is focused on painting her parents out to be parents that ignore her and could care less about her. That's so far away from the truth. Her parents worry about her constantly and for good reason.
Kick-Butt Heroine Scale: 2
Here's my biggest problem with George, this novel, and the writer: she stops taking her prescribed medication. This is a horrible concept to portray in YA. Young adults are incredibly susceptible to peer persuasion, especially in the form of literature (I have a theory that's why abusive relationships have escalated because young children read Twilight and 50 Shades and develop unhealthy perceptions of romance). It's not a far stretch to say that a child who takes medication may read this and decide that they, like George, don't need their medication because it makes them cloudy, gloomy, and not their true self. That is so damaging to a child psychologically as well as to their physical state. If you're mind isn't happy then your body isn't happy. I felt bad for George and how extreme her delusions became because her level of obsession over Fin shows how important it is to take medications because it isn't for a person when their mind gets the best of them. My biggest problem lies with how the author portrayed it being okay for George to stop taking her meds because she had something to figure out and something to accomplish. A disease like schizophrenia is so debilitating without medications and proper support and I feel like the author didn't portray this in a way that I can support. I feel very uncomfortable recommending this book to anyone because I don't want anyone to possibly be swayed into stop taking their medication. I really feel for George because her disease is such a hard disease to live with and the only thing I wanted for in this whole novel was to get help and start to make progress.
George is also obsessed with Fin. She is so stuck up on him and she gets jealous over him. The only thing that could've saved this novel was if Fin was a serial killer and that didn't happen. Thank God, he wasn't a love interest because I have no patience for that.
Swoon Worthy Scale: NONE
Prinz does incorporate some essence of a love interest towards the end of the novel, but it is once George is getting help and it isn't used as a plot device to show that love can conquer a mental illness and fix everything. That's something I'm happy to see.
All of the characters in this novel are disrespectful to one another. They don't treat each other like humans, but like doormats that get in their way and have bunched up when they are walking through a door. I treat doormats that bunch up better than these people treat each other. At one point Fin writes an email to the family where he says he misses everyone and leaves his sister out. I'm sorry, but why does everyone like this douchebag? He's supposed to charismatic, but he steps all over people (just like his sister). I just didn't get why everyone was kissing the kid's feet because I would've hated him if I knew him.
Character Scale: 1
While it is refreshing to see a novel tackle schizophrenia in a positive way instead of making the schizophrenic a murderer, I'm not pleased with the message Prinz provided when it came to stop taking medication to solve the case. I don't know if I can recommend this novel because I'm very conflicted about this portrayal, but if you are curious to see if you feel the same way, check it out.
Plotastic Scale: 1
(I did enjoy a plot of the plotting provided, but I can't give this novel anything higher than a 1 because of how problematic I personally found it to be.)
Cover Thougths: Contemporary cover for a contemporary-ish novel. I don't really care for it. It's basic and looks boring to me.
Thank you, Netgalley and Algonquin Young Readers for providing me with a copy of this book in exchange for an honest review.
Discussion:
What are your thoughts on authors writing characters with mental illnesses who stop taking medication? Do you think that this is a good idea? I'm curious to see if other people have a problem with this in novels. I think it's important discuss what happens when people stop taking medication that they need, but I don't feel that was what the author was portraying. Can you recommend any books that focus on mental health in positive or important ways? Let me know in the comments!