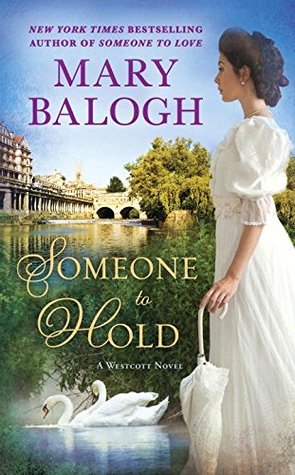 Someone to Hold by Mary Balogh

Second book in the Westcott series

2.25 stars

"What I set as my primary goal in life was all a mirage in a vast, empty desert."

Camille Westcott has lost everything. Her life has been turned upside down since finding out that her father's marriage to his mother was a sham and her and her siblings are illegitimate. She finds herself in Bath at the orphanage where her half-sister lived and becomes a teacher to the orphans without any knowledge of children. Joel Cunningham is a renowned artist known for capturing self-portraits that bring out a person's personality. Joel is no stranger the orphanage that Camille finds herself teaching at as he lived there as a child and teaches art to the orphans. Camille's demeanor is stiff and cold and he finds nothing tasteful about her since her rejection of his dear friend (Camille's half-sister), Anna, but when Camille's grandmother commissions him to paint a portrait of her, he finds himself becoming attracted to her. This book is bland. I don't think I've ever come across a HR novel that didn't have me speed reading through (even my least favorite one I read quickly), but this one was so easy to put down. There are quite a few issues I have with this novel, but it also isn't horrible because when it was fun to read I wasn't bored and I found myself squealing at the cute moments.
Balogh's writing style is impassion and cold. It's hard to make a connection to her when her character match her writing style at the beginning of the novel. Another con to Balogh's writing style is her tendency to have really long mental interjections before starting a conversation. It gets really easy to lose interest when I'm reading a conversation that last several pages because there are so much unnecessary anecdotes that lack in humor and are filled with existential drama. This story didn't entrance me and in my opinion, that's a bad sign in a HR. HR romance should make me want to never stop reading and I should gobble it the story up because it's just so swoony and fun. This novel lacks just that.
Whimsical Writing Scale: 2
"Life has kick us in the teeth, Abby, and I am about to kick back. Hard."
The main female character is Camille. Camille has the personality of a bag of bones, even then I'm sure skeletons are more fun than her.
She is a very refined character and her thoughts don't feel real for a very long time. My interactions with Camille were not off to a good start at the beginning of the novel and I couldn't find myself wanting to connect to her cold, whiny inner monologues. Camille is also incredibly selfish. Her mind is all woe-is-me my life is over and ruined. Waah waah waah!
The funny thing is that Camille does grow on the reader. I'm studying to teach high school English and I loved her interactions with teaching the children. It made my soul so happy. Camille's interactions with baby Sarah are her saving grace. It's those interactions that made her human and I could see that Camille wasn't a cold-hearted aristocrat no longer in high society, but a woman who didn't know love and wanted to give it to someone small.
Camille also made a complete 180 out of nowhere from being cold to shoving tongue happily into Joel's mouth, which is great, but a little out of left field for her personality. Then she became cold and stiff again then she randomly jumps into bed him with. I was proud of Balogh for allowing Camille to have a true first sexual experience. She doesn't have an orgasm and it's refreshing and believable. Then Balogh ruins it with that annoying trope of fuck and run while calling herself a naïve idiot for putting her love in someone who may not love her.
Like please, can we stop with this trope? Why can't we have a heroine who has sex and doesn't feel ashamed by her actions just because affections may not be returned.
Kick-Butt Heroine Scale: 2.5
The main male character is Joel. Joel is so bland. He is boring and I couldn't find myself falling for him. He is not the type of HR hero that makes me swoon and it made story pretty boring. An orphaned painter shouldn't be such an uninteresting character, but Balogh somehow managed to make his character dull. He does grow into a more interesting and fleshed character as the story progresses, but by the last page I still found myself unimpressed by his comments and I just didn't really care all that much for him.
Swoon Worthy Scale: 2
I haven't read the first novel in this series, so I hadn't met Anna prior to reading this novel. I can't say I'm impressed with Balogh by her introduction to a beloved character because it left a sour taste in my mouth. I'm introduced to her in a POV after a tense interaction with Camille and it results in her and Camille's cousin, Lizzie, making snide judgmental comments about Camille's state of dress and her personality. I understand from reviews that people didn't like Camille, but I honestly didn't like Anna very much because of this at first. The first time I'm introduced to a character in a book, POV wise, shouldn't be them judging another woman while also saying "I so want to like her, but I don't know if I can because of how she treated me in the past" (paraphrased). Anna did grow on me as the story went on, but I still can't get over my first introduction being a catty bitching session about a woman.
I did enjoy seeing a huge family like the Westcotts in a HR because most families are quite small, but this family was huge. I couldn't keep track of all of them and it reminded me of how big my family dinners are because I come from a large family as well. I enjoyed Abigail, Camille's sister, and Avery, Anna's husband, but besides them no one really stuck out to me. The connection to Joel's family is quite interesting and I really felt for him for his new knowledge and sudden loss. It's too bad the character wasn't around more because I found his dry humor hilarious.
Character Scale: 2.75
Overall, I don't know if I would recommend this. It's not my favorite HR and it's definitely the best. There are much better ones out there and I would recommend Lisa Kleypas, Sarah MacLean, and many more before I would recommend picking this one up just because it's not very fun and the characters are bland. The novel remains at a stagnant pace for a long time and I almost DNFed because of how bored I was. I'm glad I finished though because I found the ending to be sweet. SPOILER I wish that there were more adoption endings in HRs because I think it's so beautiful to welcome unwanted children into the lives of those who are willing and able to provide for them.SPOILER If you do decide to pick this one up, I hope you enjoy it more than I did.
Plotastic Scale: 2.25

Cover Thoughts: I love the cover for this one. It's stunning!
Thank you, Netgalley and Berkley Books, for providing me with a copy of this book in exchange for an honest review.
Are you interested in picking up Someone to Hold? Have you read Mary Balogh? Any recommendations as to what other books I should pick up? I know she is beloved and I just think this one was a miss for me. Let me know down below in the comments!